Hello, Ruminators.
(Did that sound profound or what?)
You know that saying... It's better late than never? Well that's my philosophy on writing a WIAW post on Thursday! (Just go along with it)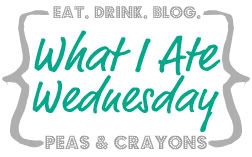 I started out my morning... not so bright and early. Though I
planned
to wake at 6am and get out on the road for my run before 7am, that's not exactly what happened. It was more like this:
6am - alarm goes off. Open eyes. Grope around. Find iPhone and turn off alarm. Go back to sleep.
7am - Wake up. Roll over. Go back to sleep.
8am - Wake up. Jerk myself out of bed before I'm fully awake. Stagger out of room. Bathroom. Dress. Breakfast.
Inhale two bowls of PB puffins with almond milk.
9am - Drive up to the park/ hills near our house and run in the hot sun. Suffer tremendously.
10:15am - Drive home, drenched. Cue breakfast numero dos.
Ginormous sliced banana, topped with almond butter and melted in the microwave. Mmmmmm.
Strawbs on the side.
11am - jet off to the train.
11:25am - Buy ticket.
11:28am - Breathe.
11:29am - Get blown away by the train.
12pm - Arrive at my old treatment center where I still have nutrition and therapy meetings. Eat lunch in the park.
Déjeuner à l'air.

Salad: spinach, broccoli, 1/2 tomato, celery, 1/4 cold Kabocha squash roasted with cinnamon and nutmeg, Sabra artichoke and spinach hummus.
Oh my god guys, this was the most amazing lunch I've eaten
ever
. So, so, so good. The kabocha squash and hummus just elevated this bland salad to something
out of this world
. I'm swooning just thinking about it. Dare I say it... cold kabocha is even more delicious than hot. And combined with hummus... Oh my gosh. It's ineffable. So smooth and creamy and delicious. Mouthgasm.
Dessert was an unpictured banana walnut muffin made out of this stuff:
Oats, flour, cinnamon, vanilla extract, baking powder & soda, stevia, bananas.
12:30pm - Meet with my therapist. It was actually a little more fruitful than past meetings with her. We talked about my fears about going back to school and making friends, guilt, etc.
1:30pm - Meet with my nutritionist. Apparently I'm undereating given the amount of activity I'm doing. Also not eating enough carbs or protein. She recommended I get back on track with my meal plan, etc, which is freaky but I'm going to try. She also recommended I eat a little extra starch the two days before my race (Sunday) to rebuild by glycogen stores. Yes ma'am!
2:15 - Stock up on essentials at Safeway! Aka: spinach, Greek yogurt (Yay!), and bananas. What more could you want in life? Other than peanut butter, of course ;)
2:45 - Catch the train and carb up with an unpictured Kid Zbar in chocolate chip flavor.
3:45 - Get home and snack!
The usual: greek yogurt, pb, pumpkin butter, jam, cinnamon. Beautiful
4:20pm - Drive to Santa Cruz to go sailing with my uncle and aunt plus other people. Meet up with them and race in front of the Beach Boardwalk! 'We' came second - apparently the first time in 7 weeks they haven't won. It was kind of crazy and intense, with everyone yelling things, running all over the boat to tighten this rope and pull out the spinnaker - but fun to be out on the water and admire the sights.
9pm - Get home. Take funny photos of my windswept hair and Outfit of The Day.
Green and white striped tank top: J. Crew, Shorts: Target.
9:15pm - Make dinner - so late! I baked a quick Organics spinach cheese pizza with a salad with extra edamame on the side, and dark chocolate for dessert.
11pm - Fall asleep reading this book:
Light and fluffy - just what I need :)
How was your Wednesday?