Hi chickpeas!
How's your Tuesday going?
Since
yesterday's post
dealt with a rather heavy (not to mention long!) topic, I decided light and short (we'll see how
that
works out!) would be good today!
Since fashion is a huge passion of mine, I thought I would jump on the bandwagon and post an Outfit Of The Day:
Wooo! I'm flying! Okay, not really. Top: Petit Bateau, jeggings from Abercrombie, oxford shoes from DSW (not sure what brand).
The other day, I was at Trader Joe's doing some grocery shopping, and realized I needed to replenish my stash of (Greek) yogurt. Shock and horror - they didn't have the huge Fage tub (that boasts four servings) I
always
get because it uses less packaging and is thus better for the environment. I wasn't about to buy their measly two-serving, or, worse yet, single-serving Greek yogurt, so I decided I would expand my horizons a bit and look at
other
types of yogurts.
Sorry, Greek. I think we should start seeing other people.
After browsing around a bit, I found a yogurt that was extra high in calcium (One serving gives you 45% of you RDA!) and moderate in protein. It was also super cheap. Whereas a 32oz. tub of Greek yogurt can cost you around $10 (I usually buy the discounted ones at Safeway that are around $6), this 32 oz tub was
only $2.99
! Shocking. So into the cart it went, Fage 17.6 oz. watching me sadly from its shelf as I walked away with another.
So snackages have of late incorporated my new acquisition.
It's no rumor I like weird food combinations. Whenever I have
yogurt with peanut butter and jam
, people usually wrinkle their noses and ask me: "You're having all those foods... together?" Yup, I love the combo and I'm proud of it!
You know what I really love about PB&J yogurt though? When you finish the yogurt part, you get to spoon out the peanut butter and jelly together and oh my god, it's
amazing
. Seriously. I swoon every time I get to that part of my snack. It's just heavenly. Maybe that's why I've had the same snack nearly every afternoon for nigh-five months now.
Much like Picasso's Demoiselles D'Avignon, we had ourselves a nice little line-up.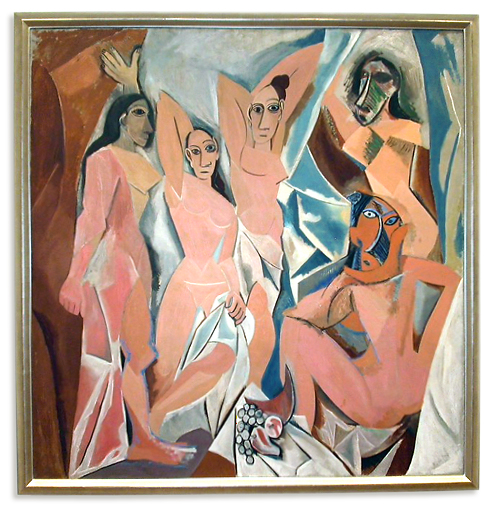 Luckily, the prostitutes were replaced with nut butters and jam :)
Perhaps, not quite as monumental as les Demoiselles, the (almost) divine components of my snack: organic raspberry preserve, pumpkin butter, European style (aka, wannabe Greek style, but not as good) yogurt, 365 Crunchy Peanut Butter <3
They all came together to make an almost perfect snack.
Plus cinnamon, of course :)
In case you wanted a closer look ;)
Almost. My verdict on TJ's yogurt? It's okay - if you want yogurt and this is all there is. Heck, it's good even, if you like normal yogurt. It's extremely... liquidy (is that even a word?!) and very sour. My toppings just melted down into the bottom of my bowl. I definitely missed the thick creaminess of real Greek Yogurt and the way it complements any additions
oh so well
. But in a pinch, TJ's regular yogurt will work.
My recommendation? If you have the choice, go Greek. The protein is over twice that of regular yogurt, the consistency is heavenly, and the taste ineffable.
And to wish you a particularly wonderful Wednesday, I leave you with a picture of Bella: