Hey Girlies!
Well, as you (hopefully) know, it's Wednesday. Actually, on summer vacation I kind of lose track of the days.
What? It's Wednesday? It's August 31th? I go back to school tomorrow? Really?
Anyway
, it's time to join the party and do a WIAW! Which is actually going to be a combination of Wednesday and other days, since I haven't really been posting my eats lately!
Note: I didn't post everything I ate today. In addition to the meals shown, I had a few snacks and desserts which I didn't catch on camera. Sorry, there is a 'behind the scenes' on this blog!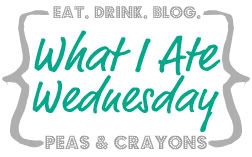 Breakfast (of dreams)
Wednesday... part 1
Cinnamon Puffins, times two, with almond milk. Don't mind the foam, it was the end of the bottle ;)
Wednesday... part 2
Green monster spooned out of an art deco little bowl I find in the back of a cupboard. Isn't it cute?
Oh yes. That would be the retired Trader Joe's Peanut flour. I know you're jealous.
A tease, much?
1/2 banana, spinach, peach, almond milk, 2 spoons of peanut flour. Yum.
Breakfast from...
another day
.
Steel cut oats, soaked overnight in a failed pudding attempt made of firm tofu (mistake! Should have used silken), cocoa powder, stevia, and mint from my garden. The original batch was so bad no one at the table could manage more than a few bites, haha. So I salvaged the remains and added water and oats to it. The result was alright. The peanut butter was, yet again, the saving grace...
Lunch
Wednesday
As usual, a packed salad before my appointments!
Spinach, 3/4 small apple, celery, carrot, cold Kabocha squash <3 (inspired by last week's WIAW!), tofu, artichoke and spinach hummus. I've been trying to add more protein and carbs to my diet, hence the tofu.
This salad was ginormous. Just to give you an idea, I used to store my rice for the entire week in that Tupperware. Crazy!
Lunch on...
another day.
Divine pancakes. 1/4 cup pancake flour, 1/4 cup cooked millet, pumpkin purée, beet juice, baking powder. I loved these! For once, they stuck together and didn't fall apart all over the pan when I tried to flip them/ not cook at all. The secret? Don't add too much liquid. Make sure the pancake batter is so thick you can make little designs in the dough, as seen above :P
Topped with almond butter. Mmmm.
Up front and personal.
Dinner
I went to a restaurant tonight with i genitori because they had some two for one special on Fish n' Chips. Obviously I didn't partake in
that
fun. There were two things on the menu I could eat: a grilled veggie sandwich, and a "Tostada salad" with grilled corn, black beans, avocado, and cucumber. I ended up going for the latter because I figured it would have more protein.
Dining al fresco.
Err... Where are those beans?
The beans were practically non-existent, as was the corn. Oh, and the avocado? The little garnish on top was it. I did, however, get lots and lots of lettuce and... er... Tostada shell stuff. But it was good! The dressing seemed to be lemon olive oil, and I felt so
green
eating it all. Two salads in one day?! Wowie. I definitely got veggies in today. Heck, I probably get more veggies in every day than the average person does in a week! Oh yes, me and my veggies... We're close. Real close.
Home again home again and I spent an hour plus putting together an IKEA chest of drawers that I spray painted silver. Exciting stuff! Afterwards I knew it was time to do some
calcium and protein loading
, so I turned to my usual
night time
snack - greek yogurt with nut butter and jam.
YIAJ. Yes, that would be a jumbo almond butter jar bought at Costco for $6!
Peekaboo! I tried Smuckers low/no sugar strawberry jam for the first time today, because I thought: less sugar = healthier. Er, wrong. That stuff was nasty! It tasted so artificial and disgusting. For the first time ever, I was unable to finish my yogurt, nut butter, and jam snack. That never happens. I'm annoyed I got like a 32oz jar of it... Maybe I can feed it to Bella?
Say What?

Okay Bell. I won't inflict it on you. Don't worry...
Tea! Seriously. It can solve all of life's problems.
This cup was lemon balm, picked from my garden. So tasty.
Tell me below:
What's your favorite way to end the day?