Hey girlies,
I'm glad you liked my
Chocolate Banana Walnut Butter
! It really is amazing.
My morning has been kind of crazy - what with waking up at 6am (ok, more like 6:30, but you know what I mean!), scarfing down breakfast, and taking a driving lesson at 7am.
But I have a quiet lull between snack and catching the train, so I thought I would join the party and do a WIAW of the delectable delights I've consumed so far today!
Something I wonder though... How is it that it's only 10am (as I write this sentence) and there are already 79 entries on the current WIAW page? Is it just because I'm Pacific time that I've only eaten breakfast while people have already posted their entire day's eats? Crazy!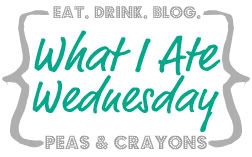 Breakfast
One-eyed monster. Okay, okay. Zucchini muffin with extra (unpictured) pb, banana with more pb.
I woke up at like 3am this morning, feeling really hungry and
craving
a banana with pb. Weird huh? I seriously considered going down to the kitchen and making myself one, but I was too lazy to get out of bed. So I added it to my (quickie) breakfast before my driving lesson. The zucchini muffin is actually a zucchini bread recipe (from
here
) I baked in a muffin tray. It was surprisingly savory - next time I'm going to try making it a little sweeter. Good anyway! (Especially doused in pb!)
Mid-morning snack
Huge bowl of fruit - strawbs and nectarines
After my driving lesson I was kind of craving food, however my stomach still felt full from my brekkie. So when I saw some dying strawberries in the fridge, I knew a smoothie was in the cards. But then I realized: I actually don't really want some thin, liquidy cold smoothie spooned out of a bowl. I want to chew on something, savor the textures and flavors of the different fruits. So I followed my craving. The nectarine and strawberries were the perfect sweetness.
Lunch
Mini sandwich: homemade whole wheat bread (recipe here), edamame hummus, flax tempeh.
Roasted Kabocha, parsnips, and peas. Mind you, I had about half of my veggies on the train because I was hungry!
Why is it that when I have very little time on my hands, I always decide to cook up something complex and long (i.e. roasted veggies rather than a simple, regular lunch on the go)? And when I have all the time in the world, I go for something really quick?
Afternoon Snack
Case in point: cherries in a cute apple dish.
Accompanied by an almond & coconut milk hot chocolate.
And now... I'm not sure what I'll be doing. Probably reading some blogs :) and tidying up the house/going for a bike ride. Then a lovely, relaxing bath! I had one last night for the first time in
months
and it felt great. I think I'm going to make it a regular thing of taking a bath, relaxing, and reading my book before dinner. It makes for such a wonderful night.
Dinner is looking like Pasta Primavera, while watching my current favorite series (last week it was the modern version of Battle Star Galactica - so enthralling!) - Heroes! And then it'll be time for bed.
What's your favorite way to relax and/or get ready for the night?